Why Legacy Giving?
As Christians, we are called to demonstrate God's love here on Earth. We answer this call to action when we share our time, talents, and treasure as an expression of our faith. Endowment giving is a way to support FPC beyond the regular operating budget; it provides a means to continue sharing, and witnessing, for generations to come.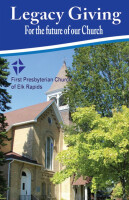 A special message from Roger Veliquette about Endowment Giving:
Endowment options that reflect the Church's needs and your passion
In 1997, First Presbyterian Church of Elk Rapids established the Mission Endowment Fund as a way to provide a perpetual stream of support for local, national and international mission work. In 2013, two additional funds were added to address identified needs: the Capital Facilities Endowment Fund and Program Endowment Fund. A contribution to any of these funds is an opportunity to provide lasting support for God's work beyond our earthly lifetime. You choose which fund(s) best expresses your personal faith legacy.
The Mission Endowment Fund supports local, national and international missions that share the Good News of Jesus Christ. Gifts to this fund also provide support for Christian education – for seminarians, pastors, and members – that empowers them to bring God's life-changing word and work to our community and world.
Click below for a video showing our support of Pure Water for the World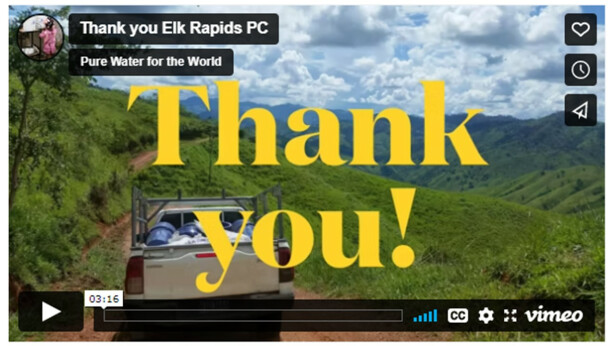 The Capital Facilities Endowment Fund seeks to address the "brick and mortar" aspects of our mission. With a church building dating back to 1874, the need for renovation, modernization and expansion is an ongoing necessity, and one that is critical to our work in the community.
The Program Endowment Fund provides support to create new or expand existing ministries; seeding Spirit-inspired ideas not supported by our annual operating budget. The need for a reliable online worship experience became evident in 2020 as a result of the COVID-19 pandemic. A $34,000 grant from the Program Ministries Endowment Fund enabled First Presbyterian Church to upgrade the audio and visual capabilities to bring Sunday services to members and friends worshiping at home during the pandemic, as well as to homebound seniors and FPC members travelling south during the winter months.
How to make a lasting impact
Endowment gifts can be made at any time. Cash, stocks and bonds, life insurance, and real estate are examples of gifts that can be made during one's lifetime. Such gifts are often made to honor a loved one. These same gifts can be made at the end of life via a will or trust. Additional gift strategies include bequests, charitable trusts and annuities, retirement assets, and insurance death benefits. Charitable planned gifts such as these can also provide tax benefits.
To ensure that your gift is structured in a way that achieves your legacy vision and accomplishes your estate goals, please contact your financial advisor or attorney for expert advice.
We invite you to prayerfully consider these opportunities to support FPC's mission and God's work. For additional information contact First Presbyterian Church's Treasurer at (231) 264-8167. All conversations are handled with utmost discretion and in complete confidence.
Freely you have received; freely give…….Matthew 10:8