Our Youth Ministry
The desire of Lighthouse Youth Ministry is to help students develop a closer relationship with Jesus. During the school year we meet in our Lighthouse building on Sundays at 10:10 a.m., and Wednesdays at 6:30 a.m. We also have monthly community events at the Lighthouse, attend camp, participate in mission trips, and regularly serve our community. We would love to have you join us for one of our youth group activities.
Breakfast Club

Come and enjoy a free hot breakfast and brief Bible study every Wednesday from September through May. All middle school and high school students are welcome.
The menu varies weekly and rotates between pancakes, waffles, egg scrambles, cheesy potato casserole, breakfast tacos, French toast, biscuits and sausage gravy, omelets and breakfast sandwiches. Always available are hash browns, bacon or sausage, fruit and beverages. A hot chocolate bar is served on cold mornings. Once a month, we have Flour Pot donuts fresh that morning!
Doors open at 6:30 a.m.
Bible study at 7:00 a.m.
Off to the bus stop by 7:15 a.m.
What a great way to start your Wednesday!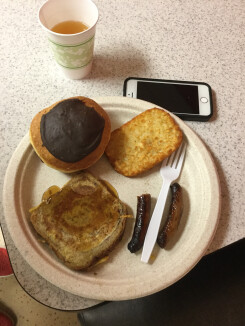 Youth Missions
Throughout the year our youth participate in various Missions - some in our community or nearby towns and other times, Missions in other parts of the United States. Fellowship, teamwork and learning how to be the hands and feet of God are all part of the Youth Missions.